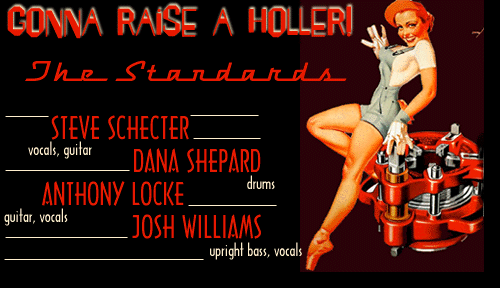 "Raw. Edgy. Pure. Rockabilly meets garage meets country-blues-jump-surf. Throw in some Tom Waits, Johnny Burnette, and a 99% original show and you've got The Standards. High-octane and full-throttle. Rock'n'roll."
The Standards have been repeatedly praised for their original songwriting and tight, eclectic performance style. Their music is a broad spectrum of rock'n'roll—imagine tinges of surf, blues, jump, country, and Tom Waits. It's a great sound. This band is a real crowd-pleaser. A night with The Standards is guaranteed to be a house-rocking experience. Based in Austin, Texas, The Standards are best described as "customized western rock" – like a customized classic car, the band has stripped down to the essentials of the music that drives them and made it their own. Their unique musical style allows them to appeal to a wide cross-section of audiences and genres; The Standards feel at home with everything from rockabilly to roots to country to punk, and from full-volume to acoustic.

Coming from a wide range of influences and backgrounds, The Standards have shared the stage with the legendary Ronnie Dawson, James Intveld, Hot Club of Cowtown, The Hollisters, Hillbilly Hellcats, The Paladins, and many others. They have performed throughout the Southwest, including stints at Bowl-a-Rama in Los Angeles and Tio Leo's Lounge in San Diego. They are regulars on the Austin music scene, performing regular gigs at Hole in the Wall, Emo's, Flamingo Cantina, and as part of the Thursday Roots Showcase at the Red Eyed Fly. The Standards incorporate the wisdom of the road into their high-octane stage shows.

The Standards successfully blend rock'n'roll tradition with a contemporary vision. The individual members of the band are all extraordinarily dedicated to the unique brand of music they share together, and the result is pure and essential. The Standards play few covers in their shows, preferring to perform a program of originals. Schecter, the songwriter for The Standards, delivers a foot-stomping fervor in songs such as "57 T-Bird," "Old Black Dog," "Same Town Girl," and "Heartbreak #3." The band will be in the studio this summer to record their first full-length album.

Join our mailing list!

Enter your email address below,

then click the 'Join List' button:

Powered by ListBot